Termite Inspection & Control
As a Termidor Certified company, we will thoroughly inspect your home or business for the signs of termite infestation. Some of the things we look for are:
Mud tubes built for traveling above ground
Damaged or hollow-sounding wood
Pinholes in drywall or wallpaper
Piles of small wings
Other specific termite indicators
In addition, we offer real estate transfer termite inspections in Holland, St. Joseph, Saugatuck, MI and more.
---
Termite Treatments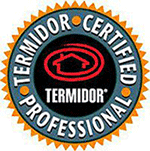 To control termites we create an effective treatment plan that's right for your home or building. This can include:
Exterior Protection: We create a continuous treated zone around the exterior of your home or building to keep termites from entering.
Direct Contact: When possible, we apply materials directly to the pests.
Transfer Effect: Whenever a termite touches or ingests a treated area it becomes a "carrier", transferring Termidor to other termites it contacts. These termites in turn become secondary carriers, and so on. This unique, spiraling process is called the "Transfer Effect", delivering devastating results to termites and maximizing the protection of your structure.